Croatia Plus Two - Zagreb to Zagreb
11 Day Escorted Coach Tour from
01 MON. Zagreb.
Arrival in ZAGREB. Trip to the hotel.

012 TUE. Zagreb.
Discover Zagreb at leisure

03 WED. Zagreb
Our guide will arrive with the group from Slovenia around lunch time. There will be a sightseeing tour with a local guide. We will have a chance to admire its two hills, the upper town and the new neighbourhoods of Croatia's capital city. Supper included.

04 THU. Zagreb - Slavonski Brod - Maglaj - Sarajevo.
We will leave first thing in the morning to travel to Bosnia. We will have a coffee stop in SLAVONSKI BROD, a border town on the bank of Sava river. Border crossing procedure (it may take long) and entry into Bosnia. Border regions hold bleak memories of the war in the 1990s. MAGLAJ, a tour of this Bosnian town. Lunch time. We will resume our trip to SARAJEVO, where we will arrive at mid-afternoon. Sightseeing tour with local guide of this highly Turk-influenced city – its musks, madrassas and hectic bazaars. We will also visit the Tunnel of Hope which saved the city during the Serbian siege during the war. Supper included.
Note: according to arrival time, the Tunel of Hope can be visited on Friday before leaving for Mostar.

05 FRI. Sarajevo - Mostar - Medjugorge - Kravice - Dubrovnik.
Another exciting stage of scenic beauty. Amidst deep valleys, we travel to MOSTAR, with its very beautiful historic centre and Stonebridge separating the Orthodox, Muslim and Catholic communities. After lunch, we stop in MEDJUGORGE, a place that attracts thousands of Catholic pilgrims. We go on to KRAVICA, we stop at its magnificent waterfalls before continuing to CROATIA. Border procedures (which may be long). DUBROVNIK, arrival at the end of the day (accommodation on the coast near the city). Dinner included.

06 SAT. Dubrovnik.
In the morning we include a panoramic tour of DUBROVNIK with a local guide. We are undoubtedly in one of the most beautiful cities of Europe, surrounded by walls, bathed by the Adriatic Sea; its intact historic centre is a jewel of world architectural heritage. The tour includes tickets to the Franciscan Monastery with the oldest pharmacy in Europe; Dubrovnik Cathedral and the Sponza Palace. We also include a cable car ride to give us a fantastic view of the city and the neighbouring islands. Afternoon free. Return to our hotel at the end of the afternoon. Dinner included.

07 SUN. Dubrovnik- Split.
We will depart in the morning travelling along the Croatian coastline which displays amazing seascapes with islands. Arrival in SPLIT at noon. We include a visit with a local guide and entry into the Diocletian's Palace. We will tour this immense palace from the Roman period, its labyrinth of streets, and its sea vistas. Supper included.

08 MON. Split- Plitvice- Opatija.
We will travel to the interior region of Croatia, going through beautiful hilly landscapes to finally arrive in PLITVICE LAKES NATIONAL PARK, which was added to UNESCO World Heritage List. Entry into the park included (with access to the lakes' boats and train) where you will admire its lakes and waterfalls. You will be able to trek along its trails and take the boats that sail through the waters of these lakes. After lunch, we will travel back to the coast toward the north of Croatia. OPATIJA, supper included and sojourn in this resort town which offers a charming night life.
Note: in exceptional circumstances, either for meteorological reasons or tourist density, it may not be possible or advisable to use the train or boat in Plitvice.09 TUE.

09 TUE. Opatija- Postjona- Bled- Ljubljana.-
Entry into Slovenia. We will travel to POSTJONA, one of the world's biggest caves which is partially toured by train. After this, we will visit BLED, a gorgeous postcard town on the shore of a lake in the middle of which there is an islet where the bell tower of a monastery stands out at the foot of a medieval castle. We include a boat trip around Bled's lake and a visit of the monastery on the islet. We will resume our trip to Slovenia's capital city, LJUBLJANA. Arrival and tour with a local guide of Slovenia's small capital city, a beautiful Central European city. Supper included.
Note: During winter, in order to be able to visit Ljubljana during the daylight hours, this may take place before departure to Maribor.

10 WED. Ljubljana- Maribor- Zagreb.
We will travel to MARIBOR, Slovenia's second most important city, highly influenced by Austrian culture, where its cathedral and castle stand out. Afterwards, we will go back to Croatia. Arrival in ZAGREB around 3.00 pm.

11 THUR. Ljubljana- Maribor- Zagreb.
End of the services, arranged transfer to airport.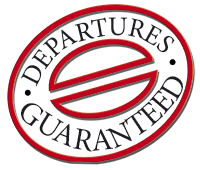 Travel by bus with English speaking guide, basic travel insurance, and breakfast buffet.
Includes arrival transfer
Boat: Tour around Bled´s Lake.
City tour in : , , Dubrovnik, Split, Ljubjiana.
Ticket admission: Tunnel of Hope in Sarajevo, Kravice Waterfall, Franciscan Monastery, Cathedral and Sponza Palace in Dubrovnik; , Diocletian´s Palace in Split, Plitvice Lakes National Park including boat and train tours in Plitvice, Postjona Caves.
Ferry: Dubrovnik.
7 Lunch or Dinner Included in: , , Dubrovnik, Dubrovnik, Split, Opatija, Ljubjiana.
$1.988 p.p twin share
Nov. 18 : 05
Dec. 18 : 17
Dec. 18 : 31
Feb. 19 : 11
Mar. 19 : 11
$2.505 p.p twin share
Jul. 18 : 01
Jul. 18 : 30


$2.275 p.p twin share
Apr. 18 : 02
Apr. 18 : 30
Jun. 18 : 04
Sep. 18 : 03
Oct. 18 : 01
Call us on 1 300 55 73 88 or contact form below :